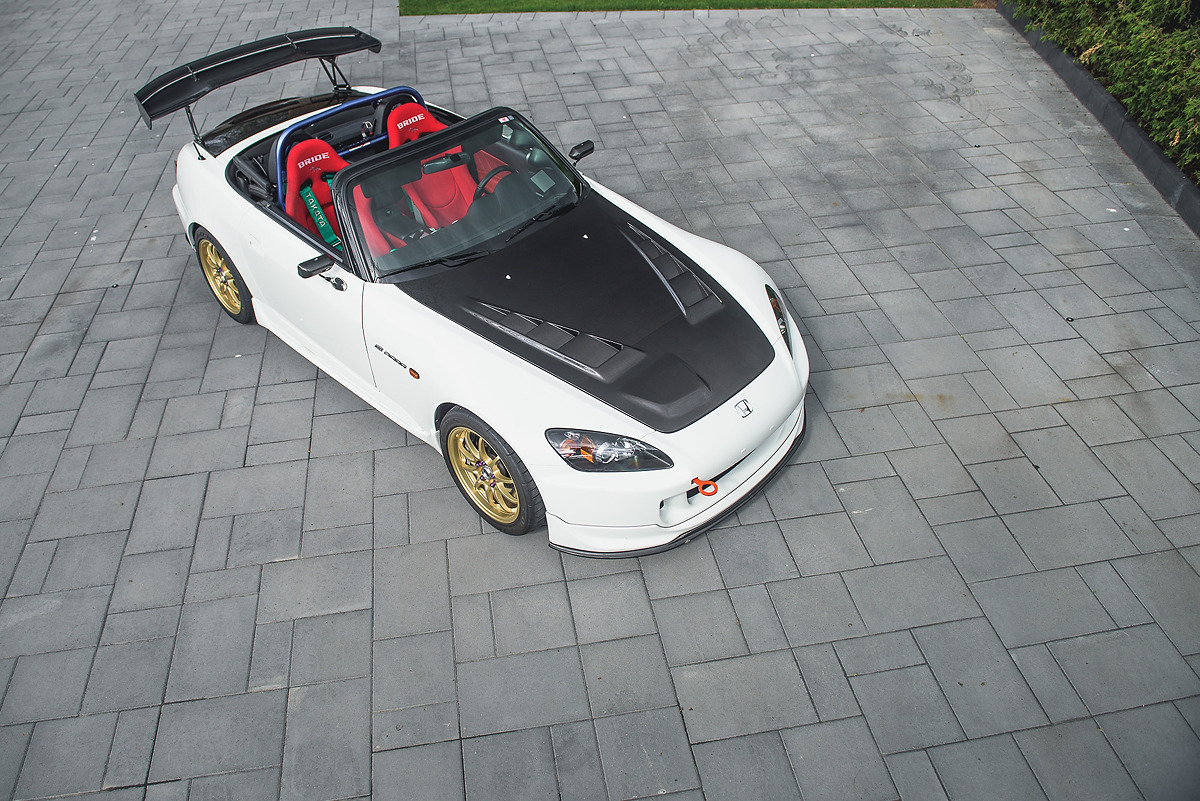 2004 Honda S2000
DETAILS
PHOTOS
ENGLISH
Cette S2000 immaculé a été modifiée avec des pièces de qualité et n'a jamais été conduite sous la pluie, pas même lors de jours nuageux, de sorte que le liquide de lave-glace est le même lorsque la voiture a été vendue en 2004! Comme vous pouvez le voir dans la liste des pièces, aucune dépense n'a été épargnée pour rendre cette voiture unique en Amérique du Nord, vous ne trouverez pas une S2000 plus propre sur le marché, garanti. Découvrez la liste des pièces ci-dessous, puis regardez la propreté de la voiture sur les images, vous serez épanouis!
Prix




Année




Marque




Modèle




Kilomètres




Transmission




Couleur

55 000$ CAD




2004




Honda




S2000




39 273KM




Manuelle




Blanc
Cette S2000 n'a eu qu'un seul propriétaire et a été stationnée dans un garage sa vie entière. Le point fort de la voiture est son toit dur en fibre de carbon de la maque Mugen (maintenant discontinué, évalué à 15 000 $ CAN avec livraison) et d'un supercharger Vortech. Consultez la liste complète des pièces ci-dessous, plus de 75 000 $ CAN a été dépensé en pièces et main-d'œuvre.
INCLUS AVEC LA VENTE : toutes les pièces d'origine pour ramener la voiture à son état d'origine. Tout. Les panneaux de carrosserie, les roues, les sièges, le moteur, etc. Vous pouvez acheter la voiture, l'apprécier tel quel ou la remmetre à son état d'origine et faire un profit sur les pièces modifiées.
La voiture est ultra propre, bien entretenue et prête à attaquer la route ou la piste. Ne vends pas en pièce séparées, vendu tel quel avec les pièces d'origine.
Roues :
Forged monoblock Volk Racing CE28N
Amuse Titanium lug nut

Pneus:
Falken Azenis RT615
F : 225/45R/17
R: 255/45R17

Freins
StopTech big brake kit
J's racing brake lines (front & back)
Suspension
Tein MonoSport full adjustable coilovers
J's Racing adjustable rear pillow control arm
J's Racing front pillow tie rod end set
Ark Titanium Tower bar
Cusco Roll Cage D1 4 point
Cusco Lower arm bar
Cusco sway bars
Système d'échappement
J's Racing Titanium FX Pro dual exhaust system
J's Racing Stainless steel de-cat pipe
Drivetrain
J's Racing driveshaft spacer kit
J's Racing differential magnetic drain bolt
Carrosserie
J's Racing front hook
J's Racing Type V Full carbon fiber hood
J's Racing 3D GT Full carbon fiber wing
J's Racing carbon fiber twin canard (not installed)
Spoon rear carbon fiber diffuser
Carbon fiber front lip
Mugen Full carbonfiber Hardtop
Mugen full carbonfiber Trunk
Craft Square carbonfiber Touring competition mirrors
Many custom carbon fiber parts

Moteur
J's Racing heat protector for engine torque damper
J's Racing valve cover
Tein hood damper
Vortech Supercharger V-2SC Serial No.46931
T1R V-Power 2 Voltage Stabilizer
Spoon radiator cap
Spoon oil hose kit
J's Racing oil catch tank
Inline pro Fuel Rail
Samco engine hose system
Aluminium radiator
SARD Racing radiator
Greddy Oil Cooler kit
J's Racing low temperature thermostat
J's Racing low temperature thermal switch
Intérieur
Bride LowMax seats
Takata 4 point belt harness
Momo Jet Carbonfiber steering wheel
Carbon shifter booth
Defi Oil pressure gauge (pillar)
Defi Water temperature gauge (pillar)
Defi Air boost gauge (dash)
Defi Oil temperature (dash)
Defi air/fuel gauge (dash)
Defi Link Display unit
Defi Link Control unit
Head hud display
Racing Kill switch
Monitor in both SunVisor
Craft Square carbonfiber rearview mirror
Audio
Directed dual amplifier 4 gauge amp kit with distribution block and fuse holder
MB Quartz speakers
Limited edition Pheonix Gold amplificators
Earthquake subwoofer
Alpine radio with DVD support
BESOIN DE PLUS D'INFORMATIONS ?
Écrivez nous vos questions.